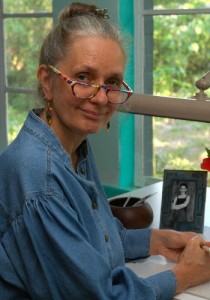 I was raised in the Midwest, a middle child of two artistic parents. My father was a frustrated writer employed as a sales manager of G.E., my mom a frustrated fine artist working free-lance as a commercial artist for Gibson Greeting cards. I grew up surrounded by art and classical music. In the second grade when my teacher asked me what my favorite song was, I replied without hesitation "Death and Transfiguration," which is an orchestral piece by Richard Strauss.
When I was twelve years old, I discovered Haiku poetry. I had several little hardback editions of Japanese master poet's work, and I soon began to write my own.
In the seventh grade I entered a city-wide gifted children's writing contest and won first prize for my age group. Besides the unspeakable 13-year-old triumph of having my haiku published in a book, I also attended an award ceremony in Cincinnati where I was given a handshake by the mayor and a copy of Kahlil Gibran's The Prophet.
This event buoyed me from my painful public shyness to at least a private confidence that I was a real artist! My interests expanded into music (I learned to play passably on the guitar and mountain dulcimer and eventually became a singer), acting (despite a love of the theatre, I never got beyond performing in our local Young People's Theatre) and visual art. This last interest is what I settled on as a career, eventually creating animal-themed jewelry and starting a company appropriately named The Magic Zoo.
During The Magic Zoo's evolution into a real family business, my husband and I happily raised our two beautiful children. I encouraged both of them to excel in the arts, which, luckily for them (and me) they both had aptitude for.
My book, An Uncommon Life, is our family's story. I doubt it ever would have been written without the tragic loss of our daughter. I believe her years on earth were not just worthwhile, but extraordinary. Sharing Cedar's art beyond my family, I hope readers can take heart and persevere no matter the barriers they may face in their own attempts at living a creative life. Cedar's story is one of great delight, unexpected tragedy and the eventual, surprising recapturing of joy.